Gingerbread House Decorating Contest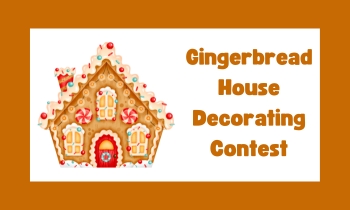 Decorate your own gingerbread house at home and email a picture of your completed creation to sherip@warrenvilleparks.org between Monday, December 4, and Tuesday, December 26.
*All Gingerbread Houses must be 100% edible candy/embellishments/materials except for lights 'inside/outside' the house.
All photos will be posted on the Park District Facebook on Wednesday, December 27 and voting will be open through Sunday, December 31. Get the most likes on your gingerbread house photo and win the prize a $50 Warrenville Park District Gift Card. The winner will be posted on our Facebook Page on January 2.