Tony Malia Pickleball Classic
June 23 @ 1:30 pm

-

June 25 @ 5:00 pm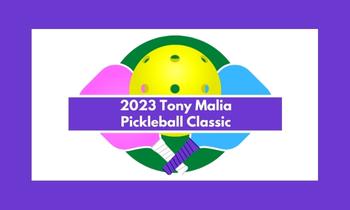 Join us for our Tony Malia Pickleball Classic! Participation is intended for Pickleball players in the surrounding area to meet and get to know each other through a friendly, non-sanctioned tournament.
Friday, June 23 – Sunday, June 25
Location: Recreation Center Gym, 3S260 Warren Avenue, Warrenville
Self-officiated games
Friday, June 23 beginning at 1:30P
Mixed Doubles Ages 65+ – $35 R / $40 NR
Friday, June 23 beginning at 6:00P
Men's & Women's Open – $20 R / $25 NR
Saturday, June 24 beginning at 9:00A
Men's & Women's Doubles – $35 R / $40 NR
Sunday, June 25 beginning at 9:00A
Mixed Doubles – $35 R / $40 NR
Tournament entails:
EARLY BIRD: Register by June 1st to receive tournament t-shirt
Awards for first place, second place, and third place. $35 R / $40 NR entry fee is total cost per a team for each division entered for doubles tournament competition.
$20 R / $25 NR entry fee for singles tournament competition.
Teams must register in the level of the highest rated player Men's and Women's singles are Open play level competitions.
3 skills level of play for Men's Doubles, Women's Doubles, and Mixed Doubles.
Skill levels are 3.0, 3.5, and 4.0 plus
Teams will be notified of approximate start time for their division prior to the tournament.
Deadline: 7 days prior
Sponsored by: Planned Financial Independence Co., Deb Lavin, Berland's House of Tools, Community Baptist Church, Team Turac, and Judy Duvall
Click Here for Tournament Flyer
---
Having trouble opening PDFs? Download Adobe Reader here.